What is LegacyClonk?
LegacyClonk (abbreviated as LC) is a fan project based on Clonk Rage.
It aims to stay fully compatible with all available content from Clonk Rage, while getting updates in the future.
We try to fix as many bugs as possible and introducing new features to make our lives easier, as far as it is possible without breaking content compatibility.
The main release post is available in german.
The proposed schedule
With this post, the first version of LC is released, which is not only fully compatible to all content, but also to the current official Clonk Rage engine, making it possible to even play together with the official engine via the network mode.
Upcoming later updates will instead be only compatible to the content, but not backwards compatible to older engines.
What's new? (Screenshots following)
The following is a short overview about the most important changes.
To obtain the full list of changes, take a look at the commit log.
Fixes of some desyncs between linux/mac and windows engines
Backport of OpenClonk's ready checkbox for teh lobby
An option to color ingame chat messages white
A restart button in the abort dialog obtained by pressing Escape (only for hosts)
A restart button and a dedicated continue playing button int the game over dialog, even if Weiterspielen
A new credits screen (generated dynamically, instead of using a static background image)
Preparation for future updates
Currently LC has dropped DirectX support, because of the lack of developers available to take care of it.
Your own ideas for possible features may be posted here, unfortunately the thread is german mostly, but english feature wishes can be posted as well.
Screenshots of some features
The screenshots have been taken with the german language pack.
Ready checkbox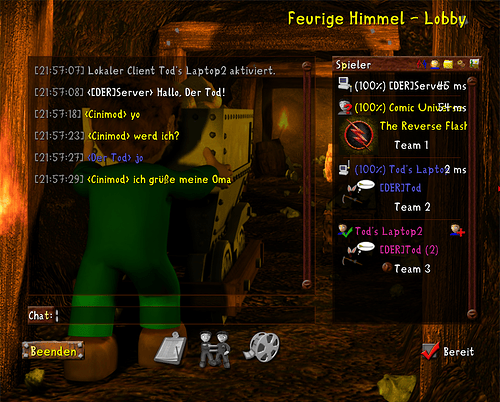 Comic Universe has the official engine, which doesn't support this feature.
Tod's Laptop is not ready, whereas Tod's Laptop2 is ready.
Restart in the abort dialog

Game over dialog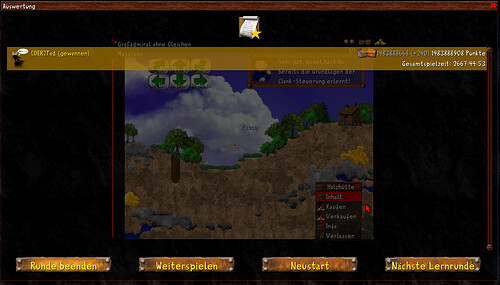 Because the first tutorial mission has been played, all four buttons are visible.
In most other scenarios, only the first three buttons will be visible.
"White chat"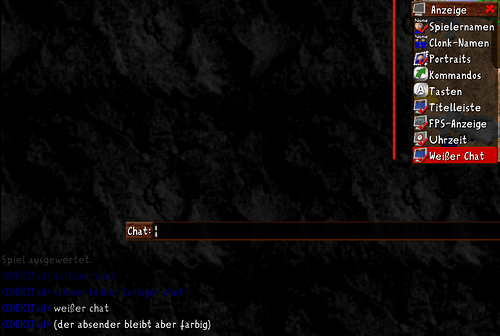 The "white chat" option can be enabled in the ingame player menu via Options -> Display -> White Chat.
Installation
The first release is only available as an update to the latest official Clonk Rage.
Thus, a complete installation of Clonk Rage is necessary.
Please follow the installation instructions for your operating system below, and in case of any problems or unclear instructions, contact DerTod or Fulgen in euIRC in #legacyclonk or directly via query.
For bugs or other general problems that may affect others, please post them as answers here instead.
Windows
Download lc_331_win32.c4u lc_330_win32.c4u and open it.
In case that the update should fail with "Status: Extract: Could not extract entry".
To work around this problem, download lc_windows_admin.bat and save it in the same folder and execute it with administrator rights.
Afterwards, start Clonk as usual.
Caution: Some anti virus programs falsely detect parts of the update as virus or denote them as unknown. In fact, it is not really any threat to your system.
You may convince yourself by looking at the VirusTotal scans of Clonk.exe and c4group.exe. While updating, c4group.exe will be renamed to "setup.exe".
Also, the source code is available here.
Linux
Download lc_331_linux.c4u for 32 bit or lc_331_linux64.c4u lc_330_linux64.c4u for 64 bit and install it.
For Linux 64 bit there is one more imoprtant change.
From now on, updates for 32 and 64 bit versions of linux will be distributed separately and the new engine and c4group binaries are called "clonk" and "c4group" instead of "clonk64" and "c4group64".
Thus, editing the .desktop file may be necessary.
To keep your current Clonk Rage settings copy "~/.clonk/rage/config" to "~/.legacyclonk/config".
Mac
Update: Currently we don't have any working update package for mac due to the lack of knowledge.
If you are interested in getting it to work, please contact DerTod on IRC or post an answer here.
Download and install lc_330_mac.c4u (link removed).
Unfortunately we couldn't really test the automatic update procedure, as we can't find the right installer for mac currently.
To keep your current settings, copy "~/Library/Preferences/de.clonk.rage.config"
to "~/Library/Preferences/legacyclonk.config".
Have fun with testing
I want to thank @AniProGuy, @Alx and @Peder for helping with testing, also @Luchs for support with the Clonkspot site.
Further I want to thank matthes and the whole Clonk team that made all this possible in the first place,
as well as the OpenClonk team who helped us mainly by doing some of the work needed in OpenClonk already, so we could take a look at how they solved various things and backport a few changes.
LegacyClonk is provided by the LegacyClonk Team, currently consisting of @Jan, @Fulgen, @Kanibal and @Der_Tod
Known Bugs and Workarounds
Changing the resolution is buggy, in case that the confirmation dialog is not visible, press Alt+Y to confirm and restart LC afterwards.
The windowed mode behaves strange. Stay tuned for later updates fixing that.
In some cases the frame rate may have an upper bound on 30 FPS, in this case, try to disable VSync in the graphics driver settings, as LC already does VSync internally, and doing VSync on two different layers may cause this issue, halving the available screen framerate.
The mac version may have some greenish text instead of white, this will still be fixed for this release soon.